It's so hard to spread the word nowadays. Too expensive, too slow, too difficult. There are just too many options to choose from. In this climate, it is important that you make yourself visible on the industry map. How? By introducing your brand as if it were a person. With its own identity, values, and character. By creating a brand book.
Are you aware that brand-led businesses outperform their competitors by 83%?
Several years ago, you'd have to pay a professional design and branding agency for a brand book and wait months for results. But, luckily, we're living in the automation age – an era where technology helps save time and make things easier. So, if you're looking for a brand book template, or desperate enough to make one by-hand – stop. We have a solution for you.
Gingersauce is an all-in-one platform, allowing you to create a professional brand book within a few minutes. So, let's see exactly how: the only thing you need is a logo.
How to create a Brand Book with Gingersauce's wizard
Go to the Gingersauce's website. Enter your Brand's name, and click 'Create a free brand book'.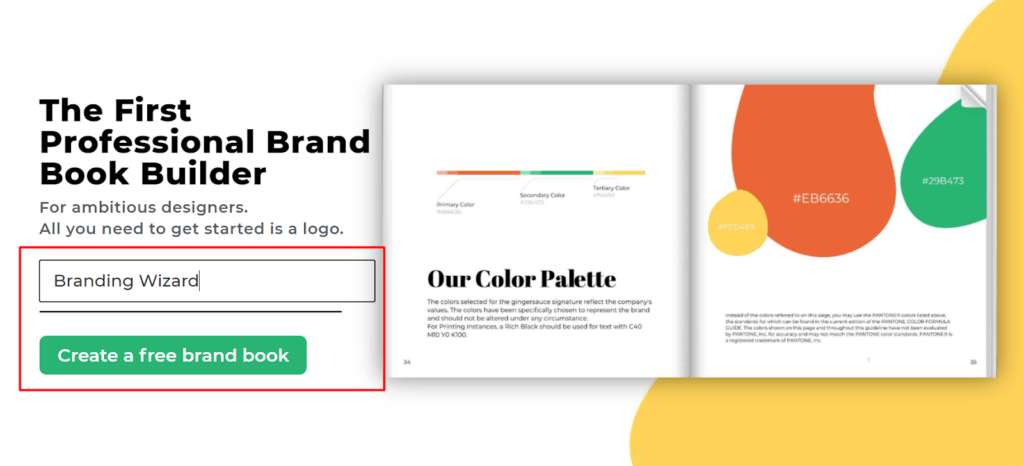 The registration phase will only take a few minutes. Choose how you'd like to sign up, whatever is convenient for you.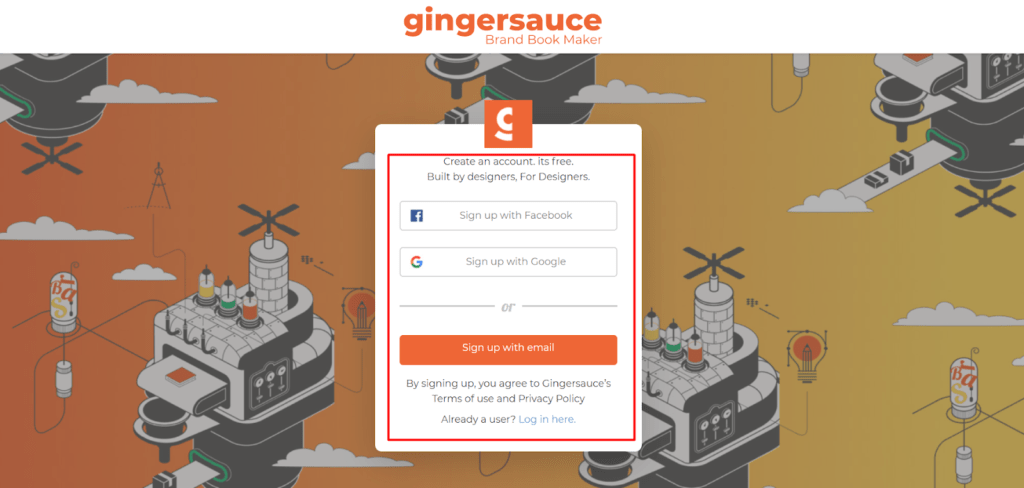 Welcome to My brandbooks area! Here you can create a brand book, or edit and share the ones that you have already added. Click '+ new brandbook'.
The wizard has joined a chat – he'll be helping you along the way. The first step is to enter your Brand name and a Tag name. Approve!
Are you creating branding for a company or a product?
Are you creating a new brand or revamping an existing one?
Drop your logo design, in a vector format.
Note: See the design go whoosh after you do!
Double-check the brand logo or upload a new one.
Add an additional brand design logo, or skip the step if you don't have one.
Master up your color palette with our color generator, or enter the colors you've already chosen beforehand.
Wanna make some final changes to your palette? Drag the colors to the preferred places in this next window.
Now to approving the logo variations, just a few windows to show how it can be used.
Add your Brand Icon or a designated Favicon.
Note: A favicon is a small icon used on web browsers to represent a website. Short for 'favorite icon', favicons are most commonly displayed on tabs, your browser's bookmark bar, history, and more.
Here you can add up to 12 Service or Feature icons.
Choose the proportions of your logo: will it be Leonardo Da Vinci's golden ratio, or maybe Ebonacci's spiral? You choose.
Choose how much space around your logo must be clear of any text, images or other elements.
Choose the smallest your logo can be to be readable and comprehensive.
Approve the logo misuses: in what ways you wouldn't like your logo to be used.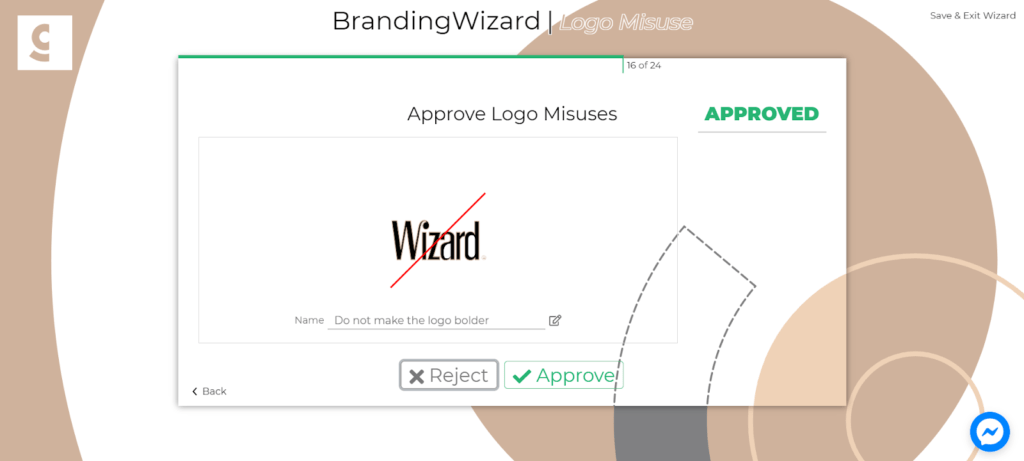 If you haven't found a logo misuse case you'd like to also showcase, upload one.
Now, here you can either drop the fonts you want or directly choose them from the Google font gallery.
Same with the secondary font.
How will your logo look as a part of the big picture – on paper, or on a website? Add it to the brand book! If you have a cool illustration to spice things up a little, drop that one too.
Letting people know your vision is crucial. You are informing people on what is the purpose of your work, what you are working towards; it is an articulation of your inspiration and goals.
How do you help your users with the product or a company you're presenting? The mission statement is as important as the vision one.
What are the principles of your brand?
Almost done!
Choose the style of your brand book design.
If you'd like to add some text or edit the existing one, click 'Edit texts' in the menu on the right.
Note: If you click on 'Edit wizard' to make changes to the brand book you've created: you'll be taken to the first steps. But don't worry, all the info is saved! This is a moment for you to double check everything.
It's that simple
Whether you are an entrepreneur seeking a brand book for your business, a designer, looking for a time-saver, or an agency in need of shortcuts and automation our brand book creator is exactly what you need. Few steps, few minutes, and logo design – with Gingersauce this is what it will take to create your brand book online.
Easy. Fast. Professional.